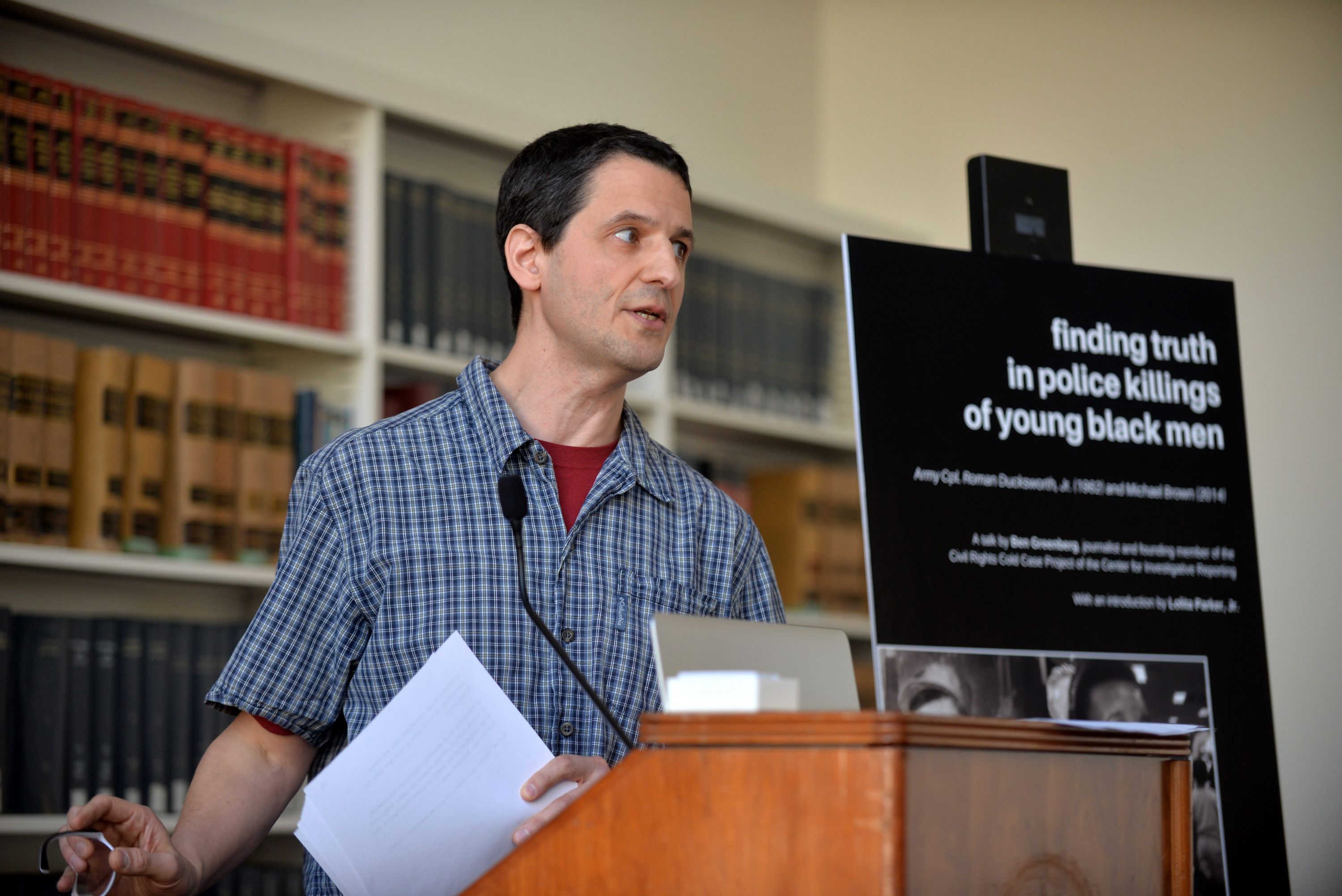 Ben Greenberg speaking in 2018 on the police killings of Michael Brown and Roman Ducksworth, Jr. at Harvard Law School's Charles Hamilton Houston Institute for Race and Justice. Photo by Lolita Parker, Jr.
I am seeking opportunities to collaborate on stories that I have in development on unsolved and unpunished racist murders from the past as well as some more recent cases. I'm excited to continue producing short films and print journalism, as well as to branch out into podcasts and feature-length documentaries. I am also interested in supporting your projects as a producer, reporter, researcher, editor or fact-checker.
I am a reporter, producer and editor with experience in public media and nonprofit newsrooms. I have worked for over 15 years as an independent journalist—and more recently with American Experience and Frontline—on historical cases of racist violence.
This site offers selections of my work as a reporter, producer and editor.
With American Experience, from 2018-2022, I led production on historical digital media from short films to interactives to webcomics to articles. The topics included racist violence, the space race, McCarthyism, women's suffrage, civil rights movement, far right extremism, evangelicalism and voting rights as well as diverse American biographies, from Marian Anderson to Ted Fujita to William Randolph Hearst to Sandra Day O'Connor.
I have worked as a freelance editor for over 20 years. While at American Experience, I edited numerous commissioned articles by leading scholars and journalists, including Martha Jones, DeNeen Brown, Tim Weiner, Claudia Smith Brinson, Dorothy Gilliam and Nathalia Holt.
As a reporter, I have produced high impact, independent investigative journalism on civil rights cold cases and other civil and human rights issues. I've produced and reported in Mississippi, Louisiana, Alabama and Georgia; conducted archival research at the Library of Congress, National Archives, University of Southern Mississippi, New York Public Library and Atlanta University Center; and presented to members of Congress and their staff.
In 2019, while still working at American Experience, I joined Frontline's reporting team for Un(re)solved—a multiplatform investigation of civil rights cold cases and the federal effort to grapple with America's legacy of racist killings through the Emmett Till Unsolved Civil Rights Crime Act. A web interactive, podcast and traveling installation were released in June 2021, and a film that premiered on PBS in February 2022. I contributed the reporting for the web interactive chapter and podcast episode on the 1962 police killing of Army Cpl. Roman Ducksworth, Jr. in Taylorsville, Miss. I also contributed reporting on several other cases memorialized in the interactive and in the traveling installation and on the funding of the Justice Department's present-day investigations under the Till Act.
My reporting stems from the blog I started in 2004 to publish research about my father's work in the early 1960s as special assistant to Martin Luther King, Jr. in the Southern Christian Leadership Conference. This led me to blogging on the 2005 indictment and prosecution of Edgar Ray Killen for his role in the murders of civil rights workers James Chaney, Michael Schwerner and Andrew Goodman. By 2007 I had begun publishing independent journalism on other, less well-known murders as well as on other civil and human rights issues. In 2008 I co-founded the Center For Investigative Reporting's Civil Rights Cold Case Project with other reporters and filmmakers. This initiative was devoted to telling the definitive stories of the remaining civil rights era cold cases in the United States, their victims, perpetrators and investigators.